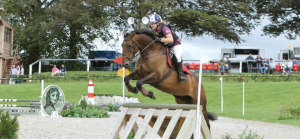 Introduction
This class aims to showcase the young Irish horses that can progress to a successful eventing career. They need to be of athletic quality type with the ability to show suppleness, engagement and acceptance in their flatwork and a good jumping technique, all combined with the right mental attitude to cope with the many questions posed to an event horse, and conformation that will help rather than hinder their production at higher levels.
To take into account the future potential of these horses, the marking scheme includes an assessment on both the flatwork and jumping phases which takes into account fluency and balance in all paces, the attitude to work, suitability of type for  a three day eventer, and the overall impression that this might be a star in the making.
Four / Five Year Old Classes
The 4/5 year old flatwork/paces display will take place on Tuesday morning for the National 4/5 year old Eventing Discovery.
Avg. jumping height: 1m (max. 1.05m)
Prize fund €3000.
Open Class
This class is for 6 year old and over horses,
There will be no flat work display for this class or assessment mark in jumping phase.
The combined show jumping and cross country section will commence at 12 Noon.
Both the Show Jumping and Cross Country phases will be against the clock.
Avg. jumping height: 1.10m (max. 1.15m)
Prize fund €1000.
General Conditions
Entry is not restricted by membership to Eventing Ireland or SJI.
Minimum height 15hh, riders must be 16 years or over.
Tack and Dress
Flatwork (4/5YO): Snaffle bridles, no boots or martingales permitted. No whips permitted. (As per Eventing Ireland rules.) Dress as per Eventing – Showjumping rules.
Jumping: Snaffle bridle recommended (will create better impression in assessment mark). Helmet and back protectors are compulsory. General dress as per Eventing Ireland Cross Country rules.
Phase 1: Flatwork Display Test for 4 and 5 Year Old Sections  (Arena 5 10.00am Tuesday August 11th)
Flatwork Display – Download Printable Version
Enter arena at A for one minute period of warm-up / freestyle display of horse's paces. This period is included in the "Overall Impression" mark.
Bell will ring to signal that rider must commence set test (a simple display of flatwork). The entry onto centre line at A may be from within arena at riders discretion.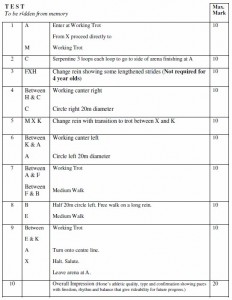 Maximum mark for the flatwork phase is 50 (Set Test ≤30. Overall Impression ≤20).
Phase 2: Jumping (International Arena, Tuesday August 11th)
Track will consist of approx. 8 show-jumps immediately followed by a selection of solid fences that will encourage horses to open up and show cross country pace, rhythm and braveness.
Penalties
| | |
| --- | --- |
| FAULT | PENALTY |
| Knockdown | 4 penalties |
| First disobedience | 4 penalties |
| Second disobedience in whole test | 8 Penalties |
| Third disobedience in whole test | Elimination |
| Fall of horse/rider | Elimination |
| Error of course not rectified | Elimination |
| Omission of obstacle or boundary flag | Elimination |
| Retaking an obstacle already jumped | Elimination |
| Jumping an obstacle in wrong order | Elimination |
| | |
| Cross Country: | Errors/Disobediences will be taken into account in the 'X Factor' overall assessment mark. |
 "X Factor mark": average score from 2 judges (positioned in SJ, XC sections) marking on the overall picture of this horse as a future star eventer.  Max. mark: 50.
Final score is max. 100. Highest score wins.