Upcoming Events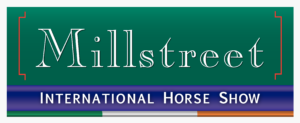 Millstreet Horse Show is Ireland's largest annual equestrian event. Millstreet has become Ireland's largest shop window for the Equestrian Industry and young horse classes feature strongly; including the renowned Young Irelander loose jumping for 3 Year Old Horses and the National Discovery for 4 Year Olds. The show features classes that cater for all age levels and grades with a full range of National classes as well as the final of the Coolmore Young Champion of Ireland series.

Now in it's third year, Millstreet International Horse Trials will see the world's greatest event riders descend on the Green Glens Arena and Drishane Castle for 4 days of competition. The elegance and precision of the dressage phase, stamina required for Cross Country and accuracy in the Showjumping arena combine to create one of the most thrilling sports imaginable. With CCI and CIC competition at 3*, 2* and 1* level, the 2017 schedule also includes The Coral Cove Young Horse Championship (6YO's) and the return of the National Eventing Discovery for four and five year old horses.
Welcome . . .
The Green Glens Arena is Ireland's most complete Equestrian Venue. Owned and operated by the Duggan Family, the facility has hosted a wide range of equestrian competition since its establishment over 35 years ago. The Green Glens Arena comprises 11 all-weather arenas and 3 indoor arenas together with 1500 permanent stables, restaurants, bars and other facilities. 2014 saw the addition of a Mike Etherington-Smith designed Cross Country course in the grounds of the adjoining Drishane Castle to facilitate the staging of the FEI European Championships for Ponies. In 2016, Millstreet hosted the FEI European Jumping Championships for Juniors, Young Riders and Children on Horses where amongst the many highlights, the Irish Young Rider Team secured their first Team Gold medal!
2017 is set to be another busy year for the Co. Cork venue which will play host to five International fixtures including the FEI European Eventing Championships for Young Riders and Juniors (19th – 23rd July). The Millstreet International Welcome Tour (April 2017) provides the perfect curtain raiser to the 2017 season with showjumping classes for all ages and levels while Millstreet International Horse Show takes place from 2nd – 6th August. The competition season comes to a close with Millstreet International Horse Trials (Eventing) at the end of August and the Owners, Pony and Young Riders Charity Show from 27th – 29th October.
2017 Dates

Latest News
Recent Events