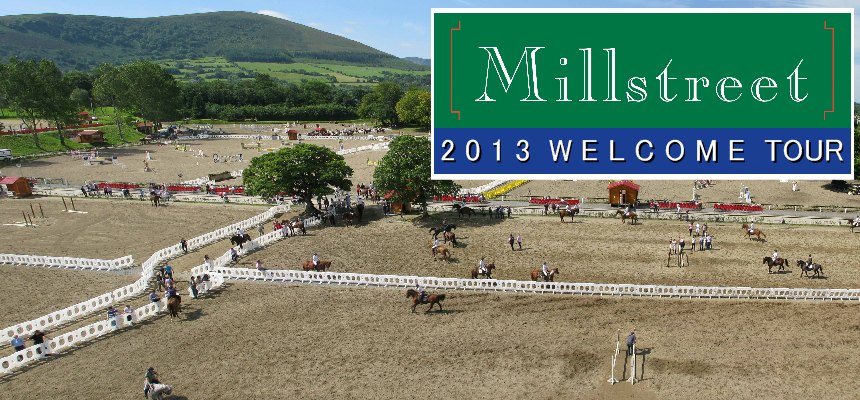 February 16, 2013
We are very pleased to announce details of our first ever Millstreet Welcome Tour Easter Weekend starting March 29th and the following weekend to April 7th, in total 8 days jumping. The tour comes as a new premise to our calendar. It is very much an unknown territory for us, but a great challenge nonetheless. We would appreciate your support to make it a success and your feedback to further develop the concept to meet with today's challenges in the production/training of young horses.
Entry Packages : 
We have structured the programme in a way that encourages the development of both young and experienced horses, giving multi-ring experience over the Tour duration. The packages are keenly priced and flexible to enable movement of horses from one height band to another as their experience demands.  There is a "training clear round course" available to already entered horses and riders throughout the Tour.
Course Designers :
Our Course Designers are ever mindful of the needs of owners, riders and horses at this time of year and will design and build accordingly. In addition to the excellent expertise available nationally we will draw upon the international experience of our visiting team members: Olaf Herrmann (GER) and Fabrice Kettmus (BEL).
Millstreet CSI 3* (August) Qualifying places :
The Tour includes qualifying places for the Millstreet Ruby 5 year old Final and the Boomerang Final at Millstreet CSI 3* International in August. One place in each is available to the winners of the Easter Finals and two places will be on offer to first and second placed horses in the second weekend finals.
Jump Cross :
Our Jump Cross competition will be over a course of showjumps and cross country jumps. It will be on an all-weather surface and will simulate an open cross country well with the added confidence of sound footing in the event of poor weather conditions. This is a good preparation for the imminent season.
Irish Sport Horse Studbook Series :
We have applied for qualifying rounds of the Irish Sport Horse Studbook Series for any one of the two weekends, having read the requirements laid out in the HSI website, we feel, and have been told by many riders that we satisfy all requirements. If fortunate enough to be among the allocated shows we may have to alter the timing of some events.
Evenings :
We are currently planning an evening programme for those of you who will be resident in Green Glens for the duration, aspects of which will be educational, informative and social.
We aim to further develop and expand this tour and look forward to your support to make this an annual or twice annual fixture.
Thank you for your interest and looking forward to seeing you in Millstreet!
View the schedule and rules here. Entries will be opening shortly.