Welcome Tour – Entries Now Open!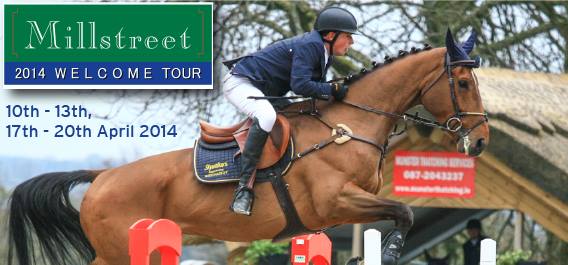 February 28, 2014
Entries have opened today for the 2014 Millstreet Welcome Tour. A new and improved online entry system will handle the estimated 4,000 entries likely to be received over the next number of weeks.
Over 130 classes are scheduled to take place between 10th – 13th April and 17th – 20th April. Last year's inaugural running proved to be very popular amongst competitors and the opportunity to compete in a wide number of classes across five all-weather arenas is likely to attract a strong entry.
The second weekend of the tour will incorporate a CSI* International and there has already been a lot of interest from abroad.
Once again, there will be a number of qualification opportunities across the Welcome Tour including places in the Millstreet Ruby (5YO) and Boomerang (6YO) finals. A special bonus of €1,000 is on offer for any horse/rider combination that finish in the top five of the 1.30-1.35m Final on Sunday 13th April and go on to finish in the top 5 in the CSI1* Gold Tour Grand Prix the following Sunday.
As in 2013, a number of entry packages are available. The daily timetable together with further information on the Tour is available here. Entries will close on Monday 31st March.