The Stage is Set for Millstreet 2014!
August 11, 2014
Final preparations are being made at the Green Glens Arena in Millstreet, Co. Cork this evening in advance of the 2014 Millstreet International Horse Show (CSI***), taking place from 12th – 17th August. Following on from the successful hosting of the 2014 FEI European Championships for Ponies just seven days ago, a 20% increase in entries means that the stage is set for another busy week of International competition. Over 1,200 horses will be stabled on site and competitors have travelled from as far as Great Britain, Canada, Spain, South Africa, Thailand and Switzerland to compete this week.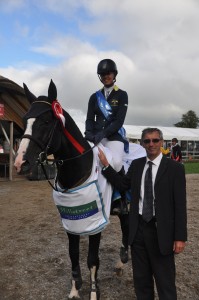 The International classes across the week are likely to provide strong competition. The home team features many of Ireland's top ranked show-jumpers including Cian O' Connor, Billy Twomey, Dermott Lennon and Clem McMahon. Fresh from their superb performances in the Land Rover Puissance at the Discover Ireland Dublin Horse Show, Michael Hutchinson and Alexander Butler will also be strong contenders during the week. As well as many of the other top showjumping riders in the country, they will be joined by Nation's Cup rider Capt. Michael Kelly, leading National Hunt jockey and Hickstead 2013 Speed Derby winner Robert Power and HSI/Connolly's RED MILLS Spring Tour Champion Daniel Coyle. A strong International contingent will be making the journey across the Irish Sea, including Anna Edwards and Ellen Whitaker – both previous winners of the Millstreet International Grand Prix. Ellen will be joined by three other members of the legendary Whitaker family while others set to travel to Millstreet include Laura Renwick, Holy Gillott and Douglas Duffin.
The show will feature 110 classes running over six days, with a total prize fund in excess of €190,000. An additional day has been added to the schedule to facilitate the growth of the National Eventing Discovery Classes which will follow their now-established format on the opening day. Once again, Ireland's top event horse riders and producers will compete over many of the fences that formed a part of the European Championship track for a prize fund of €4,000. Of the 8 International classes (including three Longines World Ranking classes), the €50,000 Millstreet International Grand Prix is the main highlight, taking place on Sunday 17th August.
Away from the International action, Millstreet's commitment to supporting the Irish equestrian industry continues, with a strong entry received for young horse classes including the Boomerang, National Discovery, Young Irelander and Millstreet Ruby. Many of the best equestrian producers in the country are represented in the Young Irelander Final for three year old horses. Adrian Marsh, David Harrison and Robert Fagan who officiated at the selection days all commented on the quality of the horses. Qualifiers were held at Millstreet, Mullingar and the West Cork Breeders Show. Those qualified will now compete on Thursday August 14th and the top twenty will go through to Friday night's prestigious final. Former Olympic Showjumper Roland Ferneyhough will be on hand along with last year's judges Tony Newbery and Mike Florence to judge the winners of all our special classes.
In another innovation for Millstreet International Horse Show, 2014 sees the introduction of an Elite Foal Sale which will be held on Saturday 16th August. The aim of the sale is to create a platform for Irish breeders to showcase their stock and to present buyers with the unique opportunity to buy a high class foal. The foals, which were pre-selected for the sale, are each from a proven show jumping performance family, including links to MHS Going Global, Electric Cruise, TKS Timeline, Diamond Exchange, Kilcoltrim, Castlepollard and Dorada. The foals will be paraded before the National Discovery class in the Main Indoor Arena with the sale following later that evening.
The Millstreet Horse Show Organising Committee continue to support younger riders who are catered for with a host of pony classes; including Ireland's richest Pony Grand Prix with a prize fund of €4,500. Young Riders will once again have the opportunity to win a training bursary with Irish Olympic Showjumper Billy Twomey through the Hitchmough Bursary, which will be decided on Sunday in the Main International Arena.
If you're looking for a family day out with free admission, world-class showjumping, a wide range of trade exhibitors (including saddlery, leisurewear and footwear, pet accessories and more) then look no further than the Millstreet International Horse Show 2014!