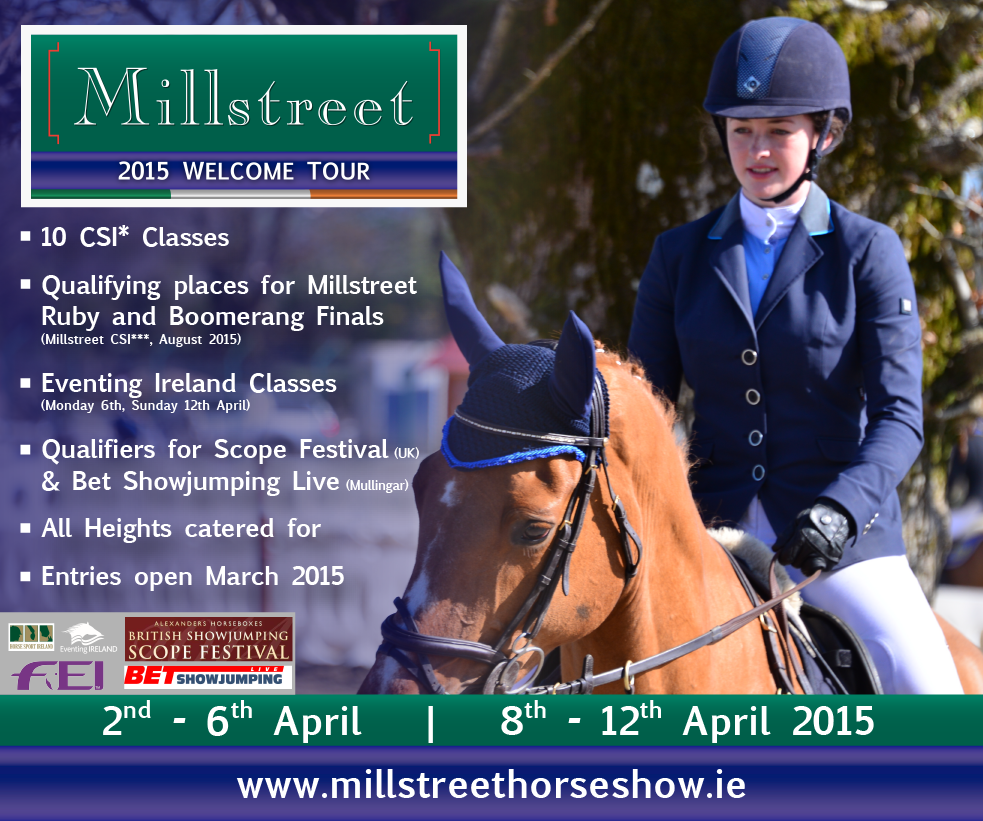 February 23, 2015
We are pleased to launch the provisional timetable for the 2015 Millstreet Welcome Tour.
Now in its third year, over 130 classes will take place at the Green Glens Arena from 2nd – 6th April & 8th – 12th April. Following their successful introduction in 2014, CSI* classes will take place on both weekends of the Tour.
Once again, there will be a number of qualification opportunities across the Welcome Tour including places in the Millstreet Ruby (5YO) and Boomerang (6YO) finals. A special bonus of €750 is on offer for any horse/rider combination that finish in the top seven of the 1.35m CSI* class on Sunday 5th April and go on to finish in the top seven in the CSI1* Grand Prix the following Saturday. The Grand Prix winning combination will also receive a complementary entry to the 2015 Millstreet International Horse Show CSI*** in August.
In a new initiative, Millstreet is proud to be offering qualifying places for the prestigious Alexanders Horseboxes/Scope Festival (UK) Supreme Championships (23rd – 30th August) during the Welcome Tour while the second weekend also includes a qualifier for the highly anticipated Mullingar Bet Showjumping Live final which will carry a €20,000 prize fund.
Millstreet was recently voted the Best Eventing Ireland fixture in the country and The Green Glens Arena / Drishane Castle will host eventing classes from EI90 to O/CNC* level on Monday 6th April and Sunday 12th April. There will also be Combined Training classes (Dressage & Showjumping) during both weekends of the Tour. Entries for all Eventing Ireland classes can be made through their website.
As in 2014, a number of advance entry packages are available. Competitors can purchase their required number of 'starts' and declare for the classes they wish to jump in on the evening before the class. Entries will open during the week commencing 2nd March and the provisional timetable together with further information on the Tour is available here.