Young Champion of Ireland 2015 – Details Announced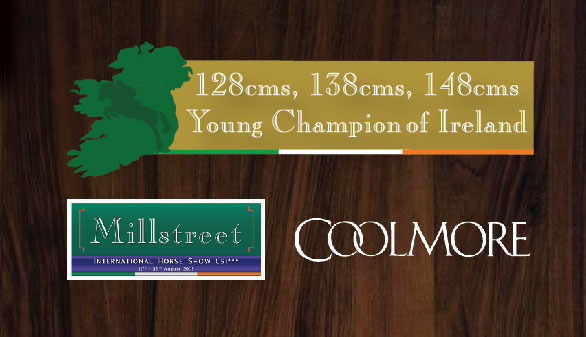 June 18, 2015
With just over 50 days until the first horses arrive for Millstreet International Horse Show CSI*** (11th – 16th August), preparations at the Green Glens Arena in Co. Cork are in full swing. The draft schedule of classes for the 2015 Show is now available to view on www.millstreethorseshow.ie – featuring over 100 classes ranging from Newcomer Ponies up to the €50,000 Millstreet International Grand Prix.
Following it's successful introduction during the FEI European Championships for Ponies last year, the Duggan Family is pleased to announce that the Young Champion of Ireland competition returns with a new format for 2015. With the generous support of Coolmore Stud, Young Champion of Ireland classes will be staged for 128cms, 138cms and 148cms ponies. Qualifiers will take place across the country, starting with Mullingar EC (28th June) and moving on to Cavan EC (10th July), Tubberbride (18th July) and South-East Clare (26th July).
A total of 24 Athlete and Pony combinations will qualify for the "Young Champion of Ireland" finals to be held during the 2015 Millstreet International Horse Show where the three Young Champions will each win a once in a lifetime trip for three to the London International Horse Show (Olympia) in December, including transport, accommodation and the chance to meet top riders. The Young Champion of Ireland will be decided over 2 competitions by means of a points scoring system. Single points will be awarded for the Table A class with double points being awarded for the Grand Prix class. The Winner will be the athlete who achieves the highest cumulative score.
Young horse producers across the country are currently preparing for the renowned Millstreet Young Irelander Final for three year olds. Once again, horses must qualify to compete at the final which takes place on Friday 14th August. Young Irelander Qualifiers take place at the Green Glens Arena, Millstreet, Co. Cork on Tuesday 7th and Friday 10th July – both starting at 09:30am. Entries can be made online. In addition to the qualifiers, 3 horses will qualify at the Performance Show on Saturday July 18th which will be held at West Cork Equestrian Centre.
Entries for all classes at Millstreet International will open at the start of July.
Further information is available on www.millstreethorseshow.ie.