The Stage is Set for Millstreet 2015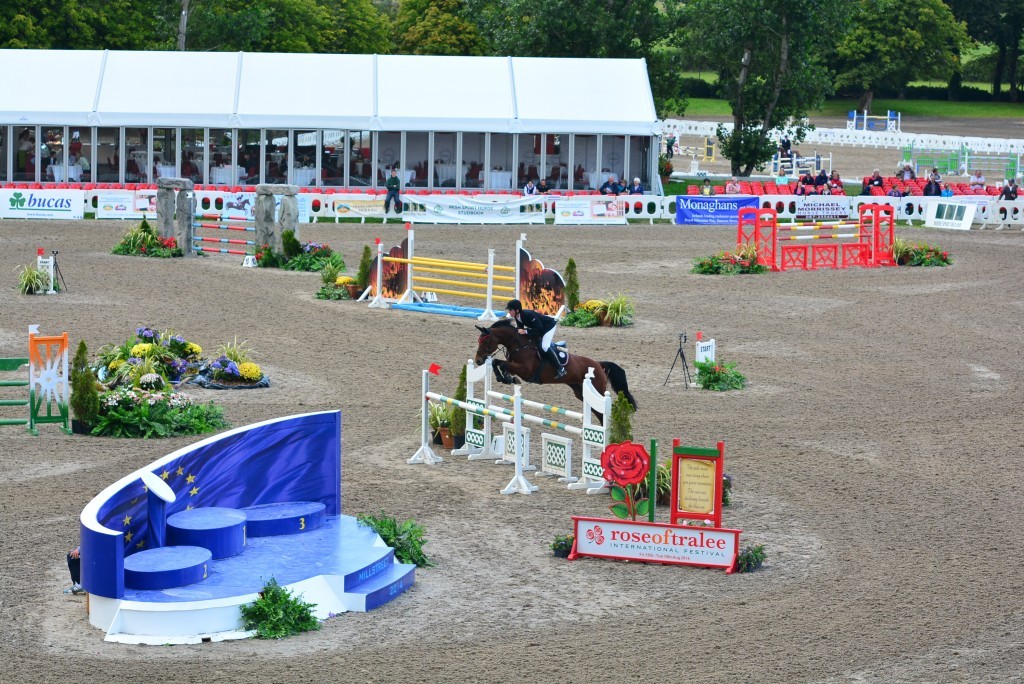 August 5, 2015
Final preparations are underway at the Green Glens Arena in Millstreet, Co. Cork this week ahead of the 2015 Millstreet International Horse Show CSI*** which takes place from 11th – 16th August. Having already staged two CSI* shows this year, The Duggan Family and their team are set to welcome their biggest entry yet, with over 6,000 entries processed by the office team. The 1,300 on-site stables will be fully occupied with a lengthy waiting list in operation while electric hook-up will be supplied to over 200 caravans and horse-boxes during the week.
The competition schedule features 110 classes running over six days, with a total prize fund of almost €200,000. Of the 8 International classes (including three Longines Ranking classes), the €50,000 Millstreet International Grand Prix is the main highlight, taking place on Sunday 16th August. Once again, a strong field of International riders are making their way to Millstreet, with ten nations represented on the final entry list, including 4 riders rated in the top 140 in the Longines Jumping Rankings (June 2015). The home team features many of Ireland's top performing show-jumpers including Cameron Hanley, Billy Twomey, Richard Howley, Dermott Lennon and Clem McMahon. Entries have also been received from 9 of the top 10 riders in the latest Showjumping Ireland rider rankings, including Irish National Showjumping Champion and Nation's Cup team member Greg Broderick and HSI/Connolly's Red Mills Spring Tour winner Liam O' Meara. Millstreet 2014 Grand Prix champion Thomas Ryan also returns to the Co. Cork venue hoping to hold on to his title. He faces opposition from a strong British contingent making their way across the Irish Sea, including the in-form Laura Renwick with her CSIO5* Dinard Derby winner Rembrandt Blue and Holly Gillott with her winning Hickstead 2015 Derby Trial ride Dougie Douglas. Riders from nations including Australia, Canada, Denmark, Germany, Lithuania, Saudi Arabia, Spain and the USA will also be hoping to take home their share of the spoils.
The action at Millstreet gets underway on Tuesday 11th August with the Ezy Sport Horses National Eventing Discovery classes. With it's largest entry yet, Ireland's top event horse riders and producers will compete for a prize fund of €4,000 over many of the fences that formed a part of last year's European Championship track. Millstreet's commitment to supporting the Irish equestrian industry continues, with a strong entry received for young horse classes including the Boomerang, National Discovery, Young Irelander and Millstreet Ruby. Many of the best equestrian producers in the country are represented in the Irish Farmer's Journal Young Irelander Final for three year old horses. Qualifiers were held at Millstreet, Mullingar, Ballina, Clare and the West Cork Breeders Show. Those qualified will now compete on Thursday August 13th, with twenty going through to Friday night's prestigious final. Former Olympic Showjumper Roland Ferneyhough will be on hand along with Tony Newbery, Mike Florence and Joseph Murphy to judge the winners of all the special classes.
This year, the Duggan Family are delighted to host the final of the Horse Sport Ireland Sport Horse Foal Championship. Qualifiers have taken place throughout the country during the summer and a prize fund of €10,000 will be on offer for the Final where four Champions will be named; Champion Show Jumping colt and filly foal and Champion Eventing colt and filly foal.  There will also be a special prize for the overall best traditionally-bred foal. Following its successful launch last year, the Millstreet Foal Sale will take place in the Main Indoor Arena on Saturday 15th August, immediately before the National Discovery (Four Year Old) Final. In addition to the well-established Ruby (5 Year Old) and Boomerang (6/7 Year Old) classes, the Millstreet schedule for 2015 also includes a 1.20m Mare's Championship with the winner receiving a semen straw for "Kannan;" the legendary Dutch warmblood stallion that carries blood from some of the most influential show jumpers in Europe; Voltaire, Furioso, Nimmerdor, Gotthard, Farn and Le Mexico.
The Millstreet Horse Show Organising Committee continue to support younger riders who are catered for with a host of pony classes. After its successful introduction during the FEI European Championships for Ponies last year, the Young Champion of Ireland competition returns with a new format for 2015. With the generous support of Coolmore Stud, the Young Champion of Ireland Final will see twenty-four pre-qualified combinations compete at 128cms, 138cms and 148cms level. The result will be decided over two competitions, with the three Young Champions each winning a once in a lifetime trip for three to the London International Horse Show (Olympia) in December, including transport, accommodation and the chance to meet top riders. Young Riders will once again have the opportunity to win a training bursary with Irish Olympic Showjumper Billy Twomey through the Hitchmough Bursary, which will be decided on Sunday in the Main International Arena.
If you're looking for a family day out with free admission, world-class showjumping, a wide range of trade exhibitors (including saddlery, leisurewear and footwear, pet accessories and more) then look no further than the Millstreet International Horse Show 2015!