Dressage Update – Young Riders: Day One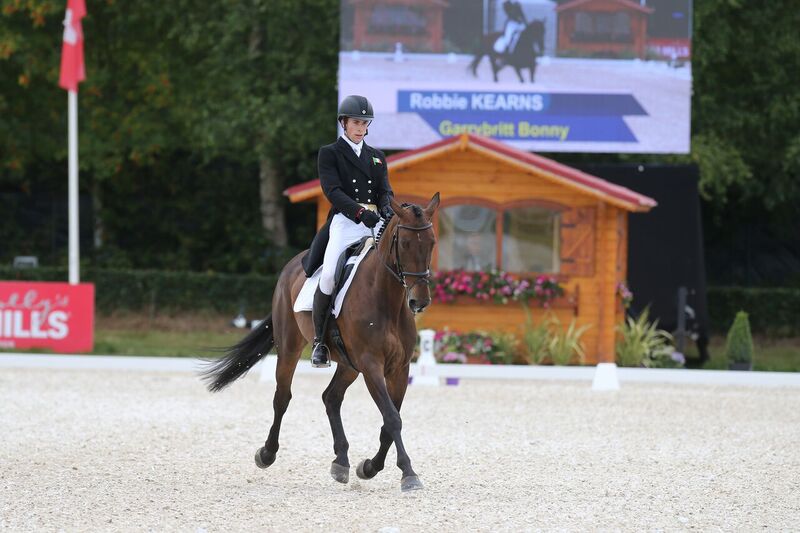 July 20, 2017
Thirty competitors have completed their dressage this afternoon for the Young Rider Championships with British team rider Alex KENNEDY currently leading the way on a score of 41.30.
Alex (20) is a full time rider based in Somerset with Robin Dumas and said;
He did his best ever test; he was so relaxed and I am really pleased with him. I have ridden 'Gandolf' for 18 months now and he has really made some great progress thanks to the Dumas. I am having an amazing time here in Millstreet, we are staying out in Killarney and the town is alive with the racing and fun fairs. As a team we are having a really great time."
Speaking about Saturday's Cross Country course, Kennedy said;
I can't wait to get out there. It is just beautiful. Bold. Very intense."
Dutch rider Janou BLEEKMAN is in second place overnight on 42.4. Individual Irish rider Robbie KEARNS is in 7th place on a score of 44.20
With two members of each team having completed the dressage phase, Great Britain are leading on a score of 89.60, Germany are in second on 89.70 followed by France on 93.40
Team Ireland are in 6th on a score of 110.30.
The concluding part of the Young Rider Championship dressage gets underway on Friday afternoon at 13:15.
The 2017 FEI European Eventing Championships for Young Riders and Juniors is presented by Connolly's RED MILLS.
Results are available from Rechenstelle.de.
Photo: Best of the Irish after the first half of the Young Rider Championship is Robbie Kearns and Garrybritt Bonny. (Image: JumpinAction.net)