Saturday Round Up – Millstreet Horse Trials 2018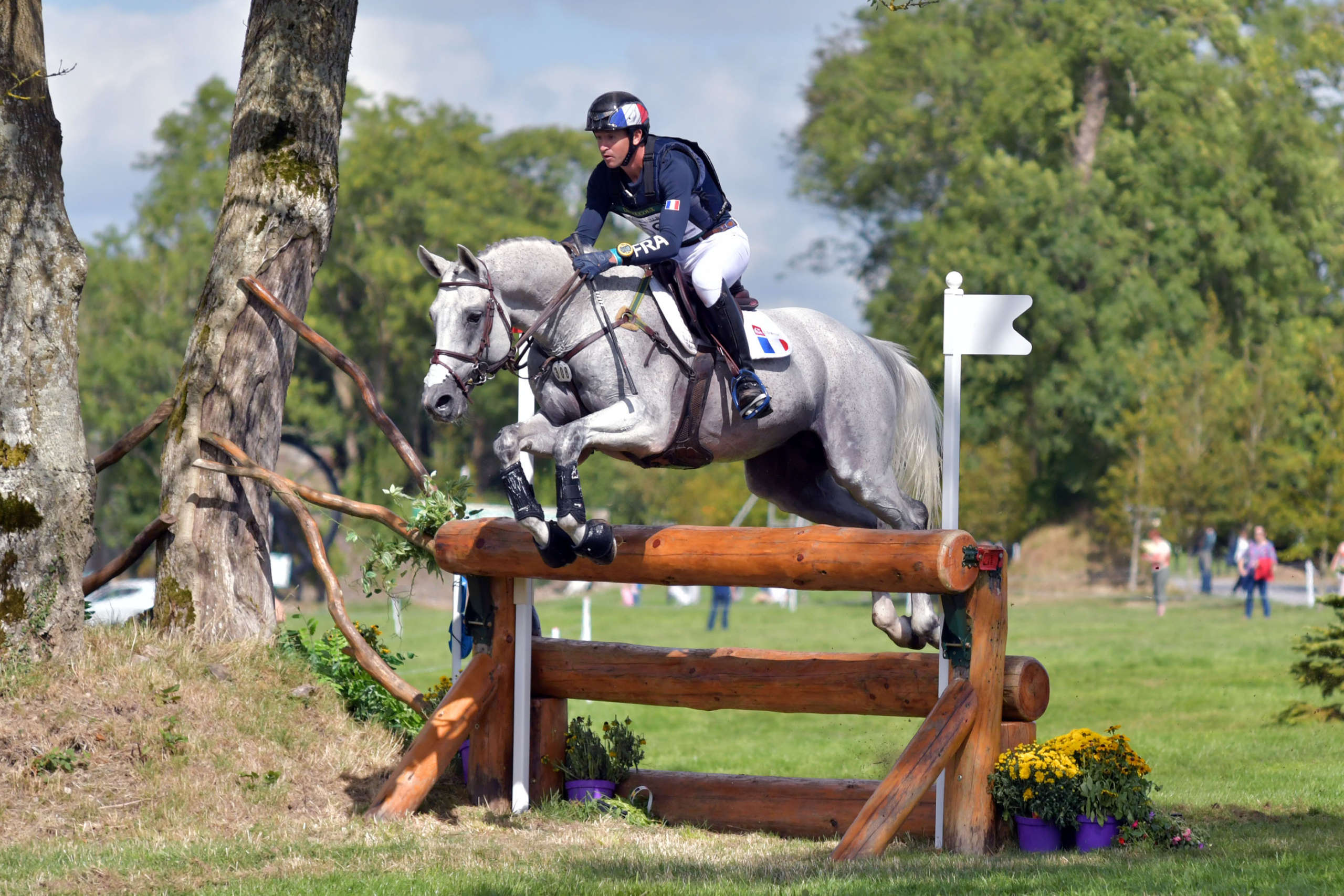 August 25, 2018
Spectators at the stunning Drishane Castle certainly saw plenty of action today with nearly 12 hours of cross country action.
Sophie BROWN (GBR)  maintained her lead today in the EPS Group CCI1* with a clear round inside the time despite a scare at the start of the day when SBE Grafensbrook needed the attention of the farrier before setting off!   Whilst being studded his shoe came loose but after a quick appointment with the farrier they set off on time, and the first rider of the day, and finished inside the time!   Sophie is in 4th with her mare Sarchie.    Irish rider Patrick WHELAN is in 2nd.
There was drama in the FEI Eventing Nations Cup presented by Connolly's RED MILLS before the xc phases started when Team USA withdrew Carlevo ridden by Bruce Davidson Jnr on veterinary advice.   Millstreet is one of just two events this year trialling the Tokyo 2020 Olympic Eventing format which sees the US Team incur 200 penalties for failing to complete the Cross Country phase. Davidson could return to the show-jumping arena tomorrow afternoon should his ride pass the veterinary panel at the Final Horse Inspection. If he opts not to return to competition, his teammates will incur a further 100 penalties but will still finish with a team score.
Thomas CARLILE (FRA) riding Upsilon incurred just .8 of a time penalty to maintain his lead going in the final day – he is 9 points ahead with Rosalind CANTER (GBR) in 2nd and fellow British rider Alexander BRAGG is 3rd and 4th.
Thomas said:
Upsilon was very good today.  Since the Europeans Championships last year we have had a few issues, but at our last run at Barbury he felt really good and confident and this just proves it.  He ran very well, he was quite keen at the Irish bank and we would have different footwork if we were to jump it again, but he was quick and clever to react.  He was a bit too keen at the fort and jumped too big which did not make it easy it for us but as soon as he understood there was an arrowhead he was very good". And tomorrow? "He is a good jumper and I have some breathing space  so I am feeling confident about tomorrow."
It is with great sadness that we announce that BGS Country Dreams, ridden and owned by Patrick Martin BYRNE (IRL) died as a result of a fatal fall.  Our thoughts are with Patrick at this time.
Austin O'Connor is the leading Irish rider in 8th. Great Britain now head the team competition followed by France and Ireland.
Chef d'equipe of the British Team Philip Surl said:
Team GBR have had a very solid day:  we had three good runs,  Francis [Whittington] had to bring it home and our reserve, Millie [Dumas], went well at the end.  Alex [Bragg] got us off to a great start – he did all you can expect from pathfinder, it was a very classy round. Flora [Harris] unfortunately got held, which is hard on a short sharp track but she did a grand job. Francis travelled well and picked up a few time penalties at the end."
Looking to tomorrow:  "We have a little bit of leeway but it is not over till it's over."
Philip said of the course:
It caused trouble throughout, the footing was good and I am sure the fence stats will show that there was  trouble at various fences.  The bank [fence 7] maybe will be shown to be the bogey – we don't see them very often at home and perhaps horses are unfamiliar with them. It was a good fair course – a proper 3* test.  The quality of build and finish is very high – we have been  impressed it is a lovely venue."
Regarding using the Nations Cup to test the new Olympic team format, he commented: "It has been extremely useful to have run it twice this year [also at Strzegom in Poland] – it has thrown up some interesting scenarios: there are one or two questions to be asked and some tweaking to be done.  Both legs have thrown different scenarios. I don't think a horse not getting into the dressage arena had been thought about before.  It certainly adds a very different dynamic to the team competition and the organisers deserve a huge thank you for kindly agreeing to host a trial."
The Donagh Hickey Motors CCI2* saw Mille Dumas (GBR) retain her lead.  Thomas CARLILE (FRA) had another great ride and is in 2nd and Melanie YOUNG (IRL) is in 3rd.
CARLILE said:
 I am very pleased with Birmane – we are stepping up to this level as she is only 7.  I am trying to do embryo transfer with Upsilon with her so she has been off since November and only started work again in June.  At Haras du Pin two weeks ago she felt a bit short of runs so I started out cautiously but she finished well and In hindsight we could have made the time.  She was very professional.   We head to the French Championships 7 year old class at the end of September.   We then head back to Le Lion – we were 3rd last year in the 6 year old and we will be hoping to go two places better this time."
He added: "It is my first visit to Millstreet – the event is lovely and I would want to come back.  The surfaces and terrain can take the rain we have had in the last few days and I would be happy to come back if I have the horses to enable it."
And regarding the team competition? "We are doing our best. All of the team added a few penalties, which pushed us off pole Position, but it is not over yet  with Waregem still to come and hopefully we can pull it off in Boekelo – nice to see the Federations playing the Nations Cup game and supporting the circuit"
Noel C Duggan Engineering CCI3* saw a dramatic save of the day for Sam Griffiths (AUS).  Riding Paulank Kings River he was pitched up the horse's neck at the bank and very, very, very nearly pitched out the front door.  Georgie SPENCE (GBR) rose from 6th to the overnight lead with a fast clear round inside the optimum time. With fellow British riders Ros CANTER and Julia NORMAN close behind.
The Eventing Ireland CIC2* sees a win for Bubby UPTON (GBR).   Bubby was riding Cola, an 8 year old who won the 7 year old class at Osberton last year and has shown great class here.  Bubby heads to Edinburgh University to read sports science this autumn.  Alexander BRAGG (GBR) is 2nd and Irish rider Cathal Daniels is in 3rd.
Two riders were taken to Cork University Hospital during the day after falls on the cross-country.   Both riders are well and being kept in for observation.
Action returns to the Green Glens Arena on Sunday morning when all horses must pass the Final Horse Inspection to go through to the deciding show-jumping phase. All classes will be available to follow live online with the finale of the FEI Eventing Nations Cup CICO3* class broadcast on FEI TV and various social media platforms.