Millstreet International Horse Trials 2019 – Friday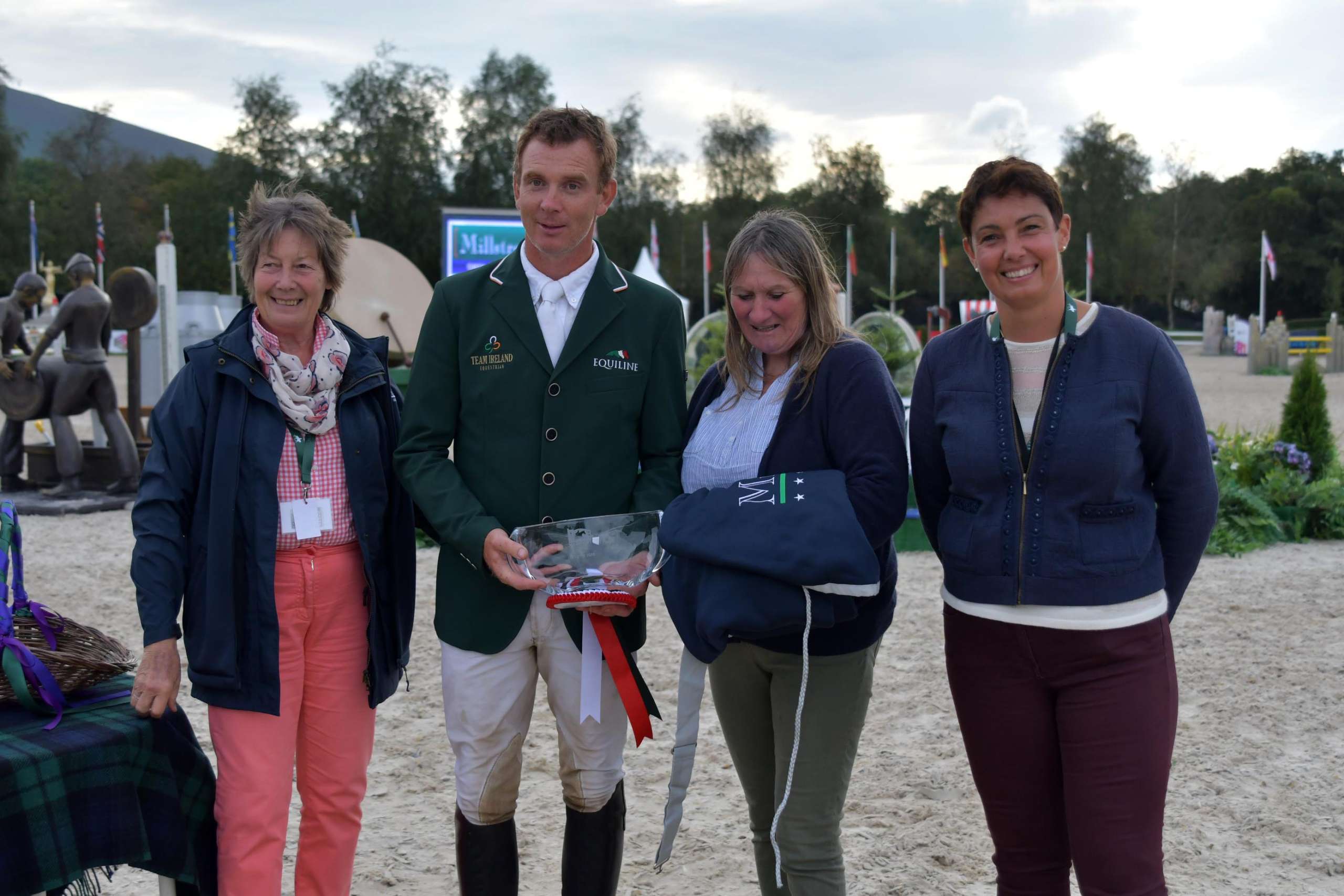 August 23, 2019
Gallivan Murphy Hooper Dolan CCI2*-S · Section A
Greenvale Altered Image Izzy HALL (GBR) won the section today after a clear round inside the time over Mike Etherington Smiths excellent XC at Drishane Castle. Izzy (15) from Buckingham is at school in Oxford and takes her GCSEs next year.  She said
It's my first trip abroad and it is quite a shock to win.
A clear round inside the time saw Daisy Proctor and Carsonstown Athena finish 2nd having risen from 9th after the dressage phase. Irish rider Padraig Flanagan finished 3rd.
Gallivan Murphy Hooper Dolan CCI2*-S · Section B
Fiveberry ridden by Padraig MCCARTHY (IRL) held on to his lead in Section B.  Liz Scott, the owner, bred him out of her National Hunt Mare Bayleaf.
Hikita (John Paul SHEFFIELD) (GBR) finished 2nd and 3rd was Jessica McIntyre (IRL).
Donagh Hickey Motors CCI2*-L
Swedish rider Ludwig SVENNERSTÅL finished the day on a score of 24.8.  Ella Boyle (IRL) is 2nd and Charlotte Agnew (GBR) holds on to 3rd place ahead of the show-jumping.   The trot up for this section is on Saturday morning, before the deciding phase a few hours later.
The Equine Warehouse CCI2*-S for Ponies
Jaymee SAVILL (GBR) maintained the lead in the section and added 2nd place for good measure! Jaymee is at school in Cheltenham and is trained by her mother.  Knockmullen Flyer, a piebald gelding, was reserve for the Pony European team last week.  Daisy Amin (GBR) finished  3rd.  Leading Irish rider was Holly LOVE in 4th .
Noel C. Duggan Engineering CCI4*-L
The feature class is headed by Australian rider Christopher Burton riding Lawtown Chloe.  The Japanese rider Ryuzo Kitajima is second and Oliver Townend (GBR) is on 3rd. After his ERM dressage Christopher described the XC as a "beautiful course" and is looking forward to riding it tomorrow.
Connollys RED MILLS CCI 4* S
Gemma Tattersall is leading after the dressage and show jumping phase on 25.6.  Team USA rider Liz Halliday-Sharp is 2nd and Flora Harris (GBR) is 3rd.
Horse Sport Ireland CCI3*-L
Harry Meade (GBR) performed a 29.5 test to lead, closely followed by Clare Abbot (IRL). Harry holds 3rd as well.
Irish Sport Horse Studbook CCIYH2*S 6yo
This highly competitive section was headed by Yasmin Nathalie Olsson SANDERSON (NOR) riding Inchello DHI. Yas is based in the UK with her boyfriend Hector Payne in Hampshire. Yas is heading to the World Young Horse Breeding Championships in Lion D'Anger in October and came to Millstreet as an ideal preparation.
The course is well prepared and dressed and the show jumping takes place in the very atmospheric Green Glens Arena.
Kevin McNab (AUS)  finished 2nd and Ian Cassells (IRL) 3rd.
Full results and times can be found here https://www.rechenstelle.de/en/agenda/2019/millstreet/
Live streaming from Cross Country is available on ClipMyHorse.tv and the Millstreet International Horse Trials Facebook page. Event Rider Masters coverage is broadcast on their website and social media channels.