Laura Collett and Dacapo are perfectly in tune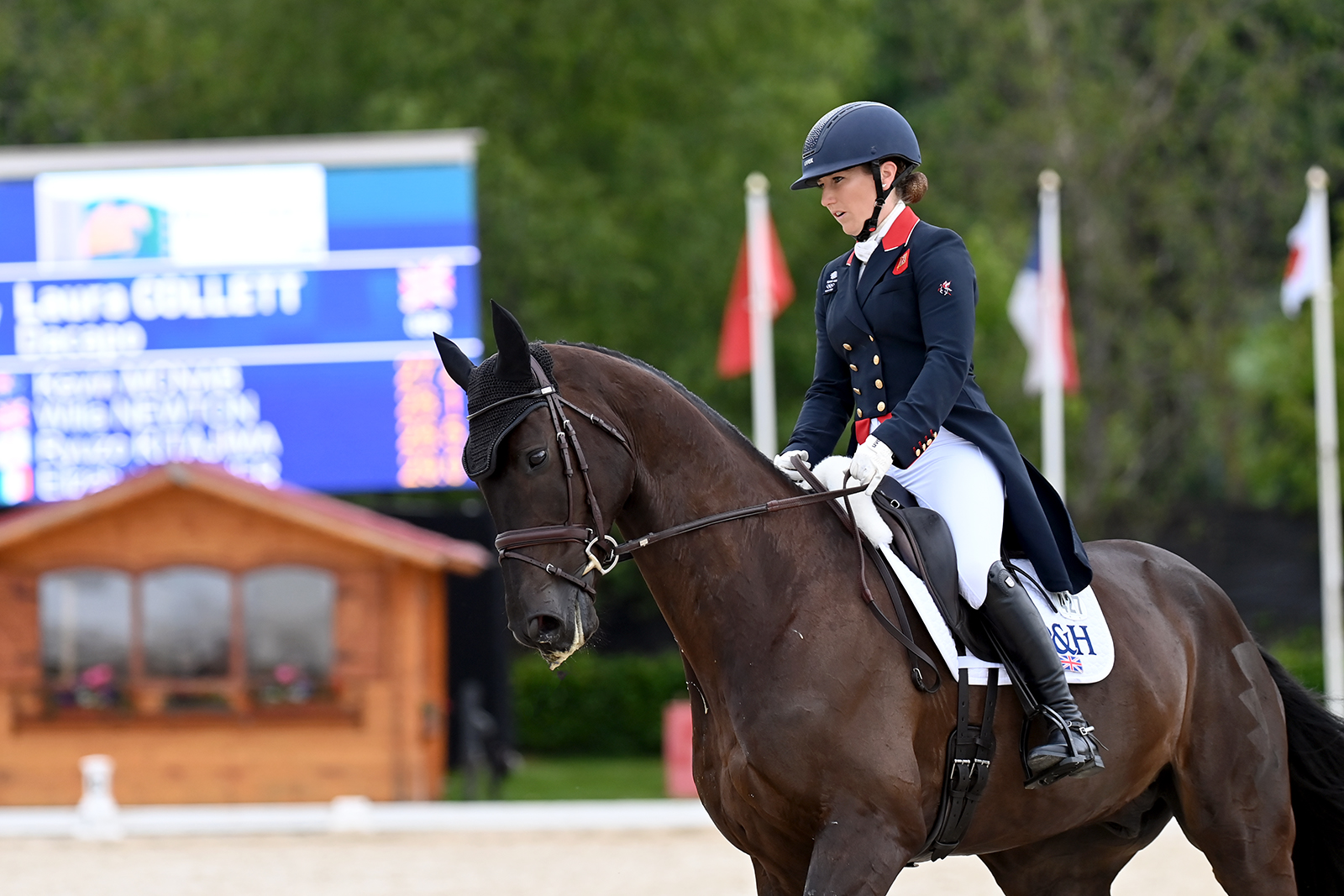 June 3, 2022
The dressage phase is now complete for all nine classes, from 1* to 4*, at Millstreet International Horse Trials in Co Cork, Ireland. Britain's Laura Collett swept into the lead in the showpiece Horsesport Ireland CCI4*-L section. Her performance with the striking dark bay gelding Dacapo was much anticipated and did not disappoint, earning a score of 24.3 from judges Sue Baxter (GBR, president), David Lee (IRL) and Jane Holderness-Roddam (GBR).
'He was really on it and enjoyable to ride,' said the British Olympic gold medallist of the 13-year-old by Diorado, who was a picture of elegance and softness. 'He has to have a tiny tantrum and thank goodness he got it out of the way this morning.'
Three of the German-bred Dacapo's five owners had travelled to Ireland to watch – Diana Chappell, Carolyn Taylor and Gillian Morris-Adams, Michael and Alison Smedley being absentees at a wedding.
Kevin McNab was a member of the Australian silver-medal team in Tokyo last year and he is in second place on Willunga, an Irish Sport Horse by Olympic Lux. The 15-year-old was bought as a three-year-old at Goresbridge by Shaun and Sally Parkyn and sold to Nicky Roncoroni, who produced him as a youngster before selling him to the States.
'We're slowly starting to work him out,' said Kevin after hearing his score of 27.2. 'There's still a lot to come and there were some costly mistakes, but overall there was genuine quality.'
Kevin is a regular visitor to Millstreet – the pair were second in the CCI4*-S last year. 'You can always run properly here – there are amazing cross-country courses and surfaces,' he explained.
Britain's Willa Newton is lying third on Cock A Doodle Doo, just 0.4 of a penalty ahead of Ryuzo Kitajjma on Japan Equestrian Federation's Cekatinka JRA, a horse he hopes to qualify for the world championships. 'She has a big motor,' he said of this lovely mare, previously ridden by New Zealander Tim Price. 'She looks small, but she is powerful. She can be sensitive and sharp, but I like a sharp horse. She is definitely my type. I always wanted her.'
Elizabeth Power is best of the Irish on the Italian-bred mare Senza Fine and Britain's Edie Campbell, competing in her first CCI4*-L and her first visit to the Duggan family's Green Glens Arena, is in sixth place on the Dutch warmblood Fireball F. 'It felt good, and I felt in control of the situation,' said Edie, who also works as a top model. 'I've come to Millstreet with new eyes and my first CCI4*-L certainly feels a different game, but the course is fair and readable.'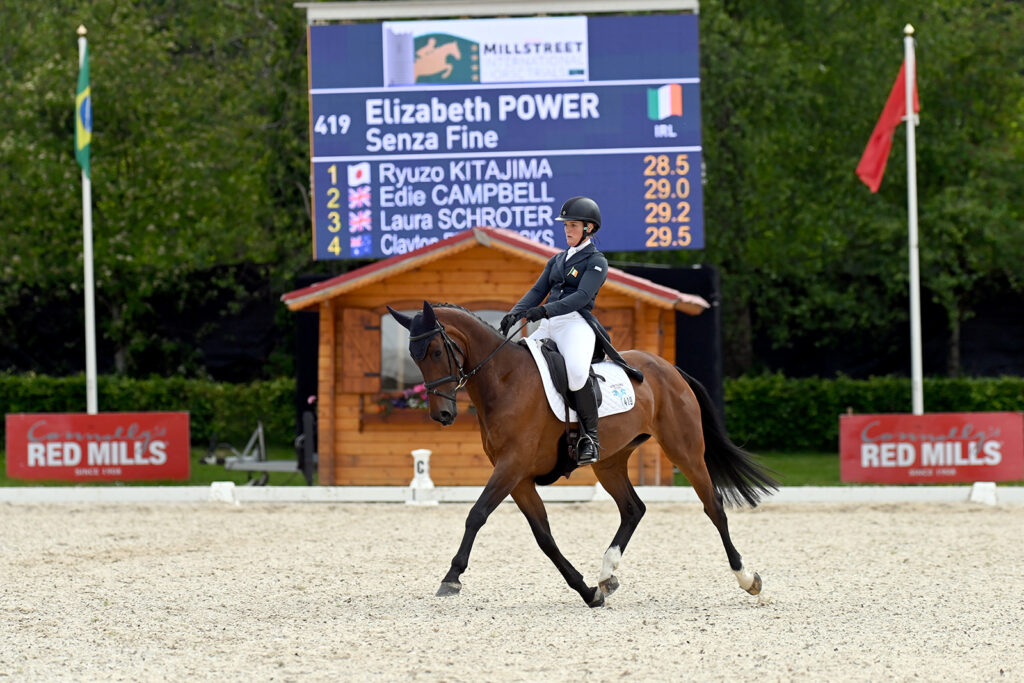 The top of the Donagh Hickey Motors CCI2*-L leaderboard sees a New Zealand one-two for Virginia Thompson (Katchafire) and Jonelle Price (Fernhill Kankan), the pair separated by just 0.8 of a penalty. Clodie Coen, 19, is the highest placed Irish rider in third place on the 14-year-old Union Fortunus, by Fortunus out of a Clover Hill mare.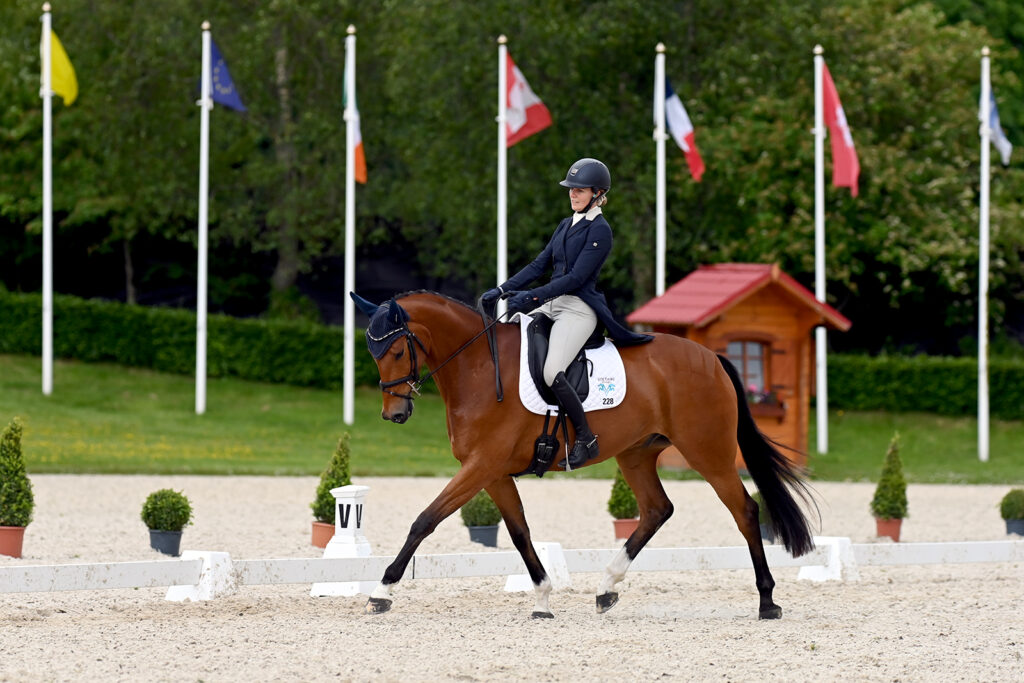 Virginia is another who has followed the well-trodden path set by the likes of Mark Todd, Andrew Nicholson and Blyth Tait, and she is based in Blyth's former yard in Gloucestershire. Kate Harvey, Phillip Levy and Ross Milne's seven-year-old Katchafire is an Irish Sport Horse by Sir Donnerhall. 'He is really cool, a big-moving, leggy horse and he coped well with the trip here,' said Virginia, who has been riding him for a couple of years. 'He tried really hard.'
Kirsty Chabert's good weekend continued when she took the lead in the Noel C. Duggan Engineering CCI2*-S on the nine-year-old Heraldiks Girl Opposition.
An impressive field of 18 ponies has come forward for the Equine Warehouse CCIP2*-S, many of whose riders will be vying for a spot in the forthcoming Pony European Championships in Strzegom, Poland, in August. The leader after dressage is 15-year-old Josh Williamson from Co Meath riding Mrs Gerry Ward and Jane Hancock's Ardeo Firema, by Tinka's Boy, with a score of 26.1. 
Cork-based Sian Coleman, riding Sean Barron and Maurice Coleman's six-year old Kilroe Frolic by Cavalier Land, currently leads the new Carr Day & Martin CCI1*-Intro class.
Tomorrow is all about jumping, with the action kicking off at 8am with the show jumping phase for the CCI4*-S and the Pony competitors who are the first to sample Mike Etherington-Smith's much-admired cross-country courses.