Laura Collett heads a cross-country thriller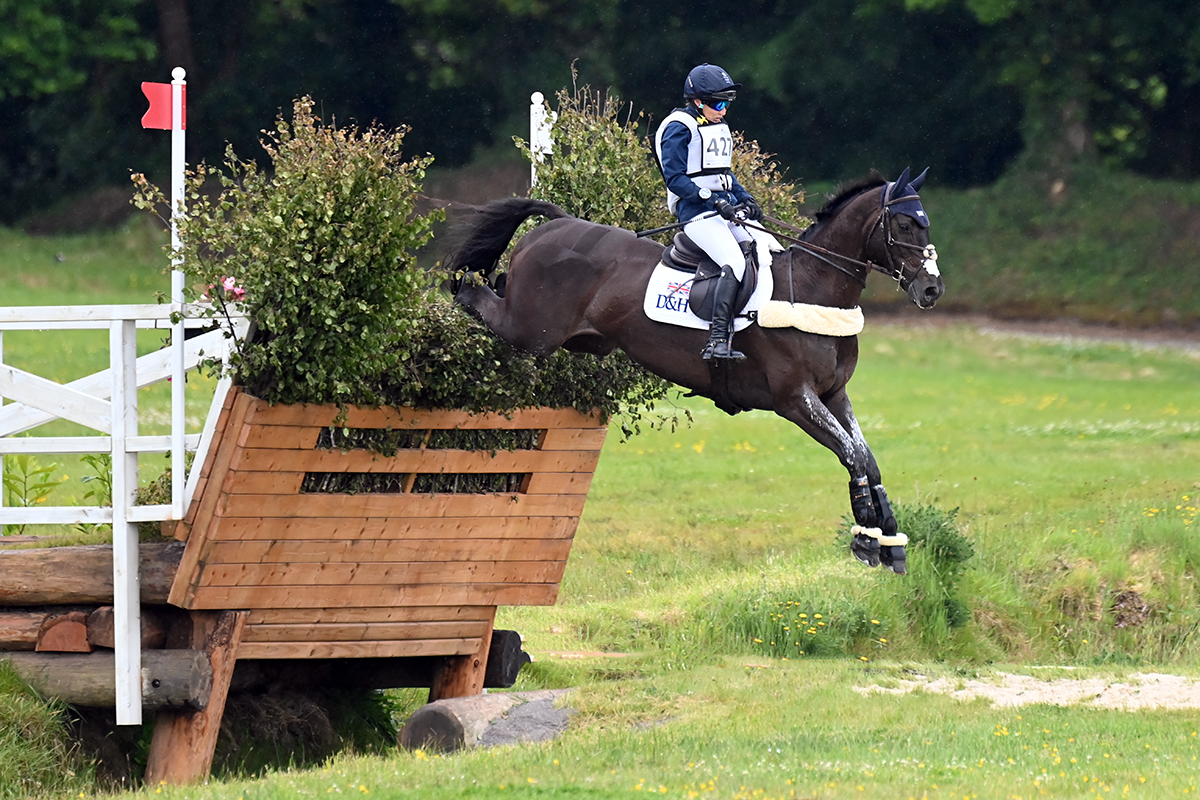 June 4, 2022
Cross-country day at the Millstreet International Horse Trials in Co Cork, Ireland, lived up to expectations, providing thrilling sport and a great spectacle in the beautiful surrounds of Drishane Castle at the Duggan family's Green Glens Arena.
It was a particular triumph for British Olympian Laura Collett who retained her lead in both the Horse Sport Ireland CCI4*-L and the Noel C. Duggan Engineering CCI3*-L. 
Six nations are represented in the CCI4*-L top 12, with Laura at the head of affairs after a copybook round on the handsome Dacapo, owned by Diana Chappell, Carolyn Taylor, Gillian Morris-Adams and Michael and Alison Smedley; they incurred 2.4 time penalties and now do not have a rail in hand going into tomorrow's final show jumping phase.
New Zealanders are here in force and Clarke Johnstone, who has arrived in the Northern Hemisphere for the season, produced two out of the three rounds inside the optimum time. He has risen impressively up the order to lie second on Aces High and sixth on Menlo Park.
Australian rider Clayton Fredericks's journey from States paid off and his superb round on Fe Coldplay has elevated him five places from eighth to third overnight.
Tim Price is fourth and eighth for New Zealand on new ride Coup de Coeur Dedevin and Happy Boy, and Elizabeth Power did the home nation proud in fifth place on Senza Fine.
Bill Levett, a 4* winner at Millstreet last year, is seventh for Australia on Sligo Candy Cane and his compatriot Kevin McNab, the dressage runner-up, is 10th with 10.8 time penalties on Willunga, the Aussies split by Ireland's Cathal Daniels in ninth on CDS Cairnview Romulu.
Arthur Duffort, the sole French rider, is 11th on Arko's Lad and Japanese competitor Ryuzo Kitajima looks to have secured a world championship qualification on the lovely mare Cekatinka JRA in 12th.
Willa Newton, third after dressage on Cock A Doodle Doo, had the bad luck to trigger a frangible pin at fence 24 and has dropped to 15th.
Laura Collett retained her CCI3*-L lead in with a superb attacking round on the eight-year-old Outback, described by commentator Clare Ryan as having 'an elastic gallop'. However, scores are incredibly tight with the price of one show jumping rail covering the top nine horses.
New Zealander Samantha Lissington is second and fifth after two great rounds on Bing Bong and Ricker Ridge Ricochet; Britain's Emily King is third on Imposant and Aoife Clark is the top Irish rider in fourth place overnight on Sportsfield Freelance.
In the Donagh Hickey Motors CCI2*-L, New Zealander Jonelle Price had a cracking ride on Therese Miller and Julia Lukas's Fernhill Kankan. The seven-year-old black mare was a purchase from Carol Gee last year and looks right up Jonelle's street.. 'She will have learnt a lot, which is what it's all about here at Millstreet,' she said.
They were one of 16 combinations inside the optimum time and hold a fractional lead of 0.7pen over Ireland's Patrick Whelan riding the seven-year-old Irish Sport Horse Altitu going into the final show jumping phase tomorrow.
The dressage leader, Virginia Thompson riding Katchafire for New Zealand, incurred 6.8 time penalties and is now in 15th place.
Short-format classes
Kirsty Chabert regained the top spot in the Connolly Red Mills CCI4*-S  in style with a hugely impressive cross-country performance on her father John Johnson and Carole Somer's mare Classic lV.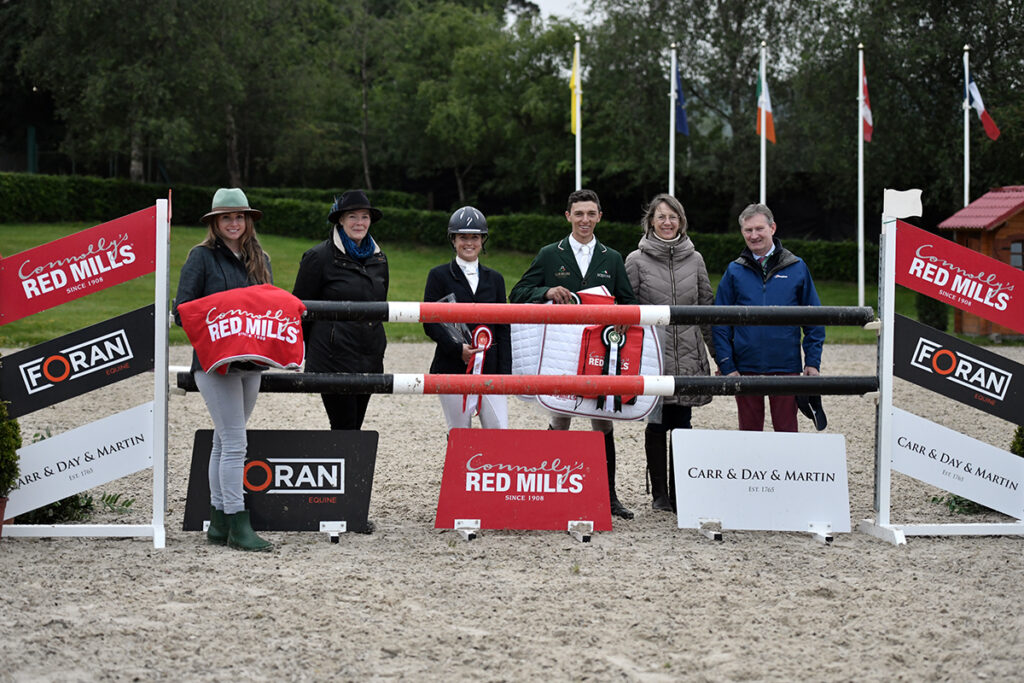 By this late stage of the afternoon it was pouring with rain and no one achieved the optimum time, but Kirsty's 5.6 time penalties, the joint fastest, were enough to give her a clear lead over Ireland's Cathal Daniels, who finished second and third on LEB Lias Jewel and his gallant veteran medal-winning mare Rioghan Run.
It was a case of reparation for the winning pair, who were pathfinders at Badminton before incurring refusals at a double of corners on the way home. 'I feel I can put it to bed now,' said Kirsty. 'She gave me an absolutely lovely ride. It was a beautiful course and the ground was phenomenal. This is my first time at Millstreet and I'm definitely coming back; it's a great place.'
Ireland's Stephanie Stammschroer and Master Swatch had taken over the lead with a clear show jumping round, but fell at a downhill double of corners on the cross-country.
Ian Cassells goes into tomorrow's Foran Equine CCI3*-S cross-country phase is first and fourth places after two clear show jumping rounds on Rosconnell Alto and Shanaclough Quality Clover. Irish team rider Clare Abbot (DHI No Fear) and Tim Price (Polystar l) are in joint second place. The dressage leader, Adam Haugh (van Thee Man) has slipped down the order to 16th with two rails down.
It remains to be seen whether Kirsty Chabert can recover her lead in the Noel C. Duggan Engineering CCI2*-S. Her 4.4 show jumping penalties on Heraldiks Girl Opposition leave her 2.6 penalties in arrears of the new leader, Ireland's Alison Holden on Lates Eddie, before tomorrow's cross-country.
Josh Williamson, son of the former top National Hunt jockey Norman Williamson, and Ardeo Fireman are still at the head of affairs in the Equine Warehouse Pony CCI2*-S. They were one of only two combinations inside the the optimum cross-country time of 5 mins 41 secs and have a fence in hand going into tomorrow's final show jumping phase.
Leading young-horse producer Meath Bolger riding MBF Back to Back still leads the Eventing Ireland CCI2*-S for young horses and Sian Coleman (Kilroe Frolic) is still in the driving seat in the Carr * Day & Martin CCI1*-Intro class.
Tomorrow's action, both show jumping and cross-country, starts at 8am.
Photo: Britain's Laura Collett and Dacapo are superb across the country to lead the Horse Sport Ireland CCI4*-L at Millstreet International Horse Trials (Credit: Bit-Media)
Notes to editors:
Millstreet has previously hosted Young Rider, Junior and Pony European Championships, plus an FEI Nations Cup and an Event Rider Masters competition.
The Duggan family have long been steeped in the Irish equestrian world, producing top-class competition horses and hosting international competitions. They are currently providing accommodation to some 300 Ukrainian refugees.
Millstreet has expansive facilities with eight all-weather jumping arenas and eight all-weather warm-up arenas, plus a beautiful parkland cross-country course in the grounds of Drishane Castle.
Mike Etherington-Smith designed the Olympic cross-country course in 2000 and 2008, the world championships in 2010 and the European championships in 2005, 2019 and 2021.