Millstreet Welcome Tour 2016 – Closing Date approaching!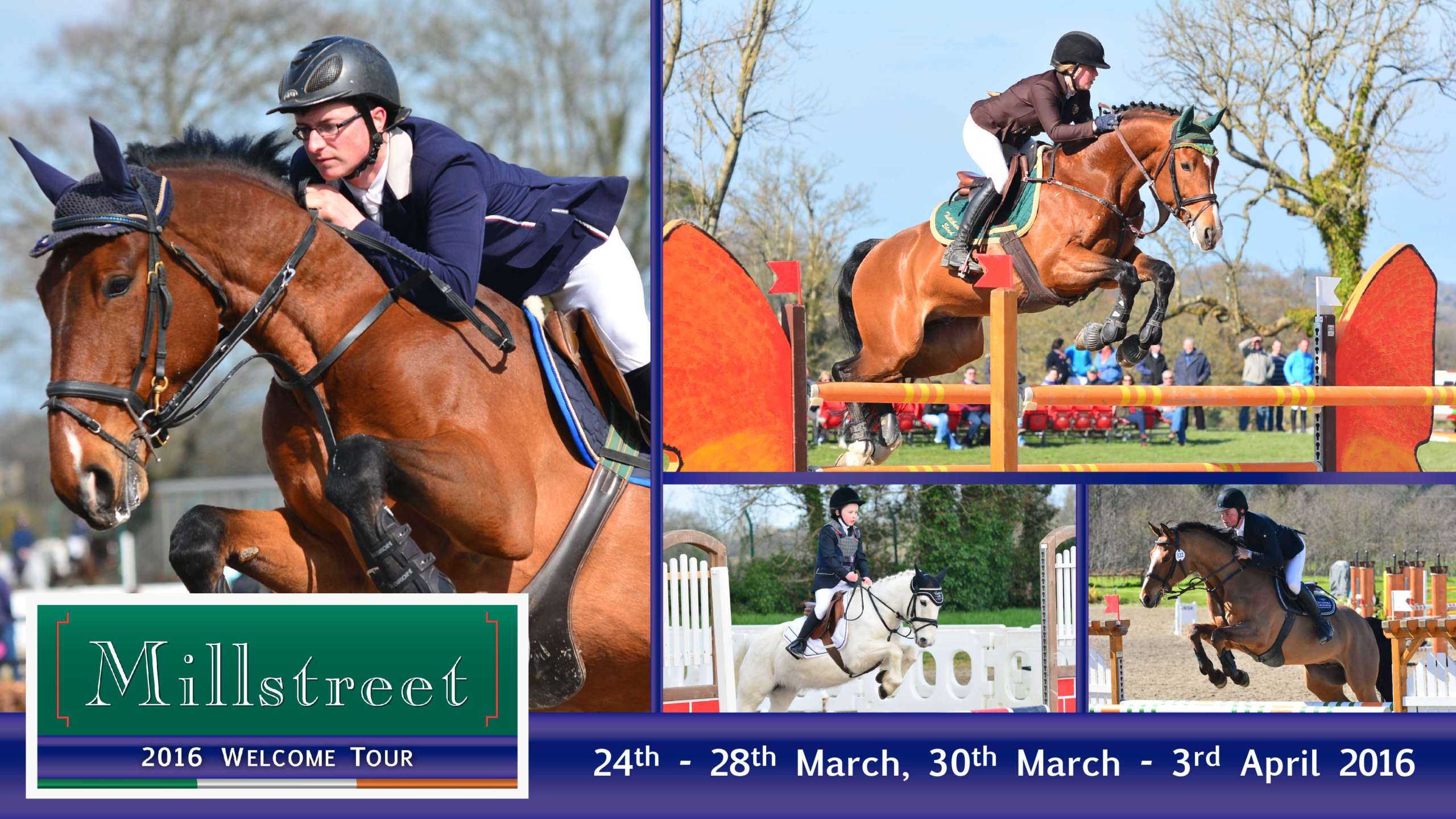 March 7, 2016
The Millstreet online booking system has been kept busy as entries continue to arrive for the Millstreet International Welcome Tour ahead of the closing date next Monday 14th March. Now in its fourth year, the Welcome Tour has developed a reputation as the ideal season opener due to the variety of competitions on offer. Over 130 classes will take place at the Green Glens Arena from 24th – 28th March & 30th March – 3rd April. The schedule is headlined by CSI competitions affiliated to FEI with the first weekend including five CSI1* classes. In a new development for 2016, CSI2* classes have been added to the schedule for the second weekend, culminating in the €25,000 Millstreet International Welcome Tour Grand Prix where valuable LONGINES ranking points will also be on offer. The Welcome Tour is likely to appeal to riders at Junior, Young Rider and Children on Horses level as course designer Gerard Lachat (SUI) will make his first visit to Millstreet this year ahead of the upcoming FEI European Jumping Championships (YR, JUN, CoH) in July.
Once again, there will be a number of qualification opportunities across the Welcome Tour including places in the Millstreet Ruby (5YO) and Boomerang (6YO) finals. A special bonus of €400 is on offer for any horse/rider combination that finish in the top seven of the 1.35m CSI* class on Sunday 27th March and go on to finish in the top five in the CSI2* Grand Prix the following Saturday.
In a new initiative, Millstreet is proud to be hosting the first qualifier for the 2016 Stepping Stones to Success League on Tuesday 29th March. Having developed a reputation as an important element in the development of young event horses in Ireland, the Stepping Stones judges are looking to identify an athletic, loose moving horse with a promising jumping technique without over production of the animal, that will develop into a 3 day event horse for the future. More information is available on the Stepping Stones website.
Millstreet was recently voted the Best Eventing Ireland 2* fixture in the country and the Green Glens Arena / Drishane Castle will host eventing classes from EI90 to CNC2* level on Monday 28th March and Sunday 3rd April. There will also be Combined Training classes (Dressage & Showjumping) during both weekends of the Tour. Entries for all Eventing Ireland classes can be made through their website.
As in 2015, a number of advance entry packages are available. Competitors can purchase their required number of 'starts' and declare for the classes they wish to jump in on the evening before the class. Entries will close on Monday 14th March and the provisional timetable together with entry and booking information on the Tour is available here.