Millstreet 2016 – Coming to a screen near you!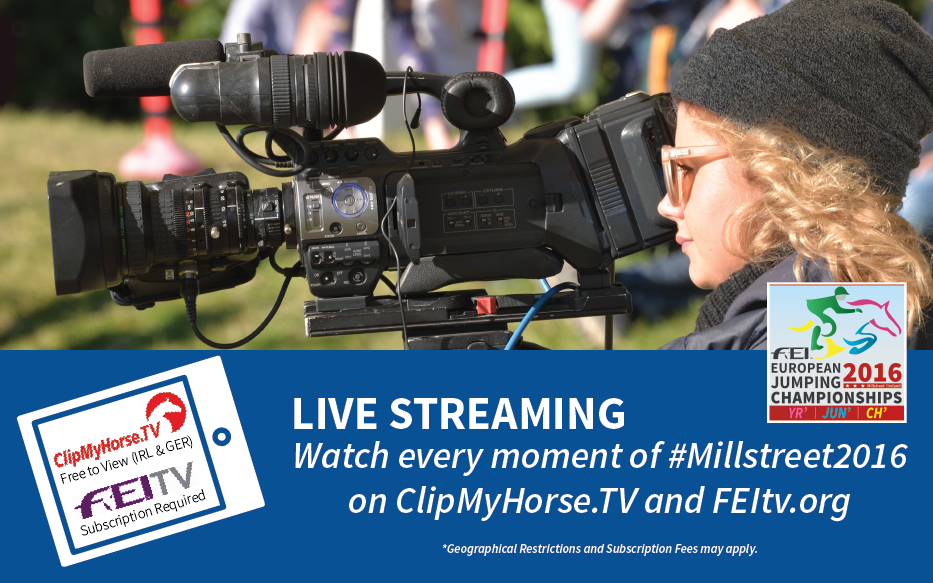 July 18, 2016
The Organising Committee of the 2016 FEI European Jumping Championships (YR/J/Ch) presented by Devenish in association with Failte Ireland are happy to announce that all competitions will be available to watch from the comfort of your own home or wherever you happen to be!
Official Broadcast Partner to the Green Glens Arena, ClipMyHorse.tv will stream every moment of the Championship action live from Tuesday 26th July. The live stream will be available to watch free of charge to users in Ireland and Germany as well as all registered users of the German-based equestrian streaming website. Each round will be available to watch 'On-Demand' following the conclusion of the class.
Meanwhile, in a first for Millstreet, FEItv will broadcast live coverage from the Championships from Thursday to Sunday – making it available to their worldwide audience of subscribers.
Millstreet 2016 Director, Thomas Duggan said;
I'm delighted that the European Championships (YR/J/Ch) will be available to a global audience through ClipMyHorse and FEItv. The Championships are the ultimate platform for the future stars of our sport to shine and it is only right that their fans and supporters can follow their progress from their own computer or smart phone.'
ClipMyHorse.tv will return to the Green Glens Arena 7 days later to broadcast the feature classes from Millstreet International Horse Show CSI3* as well as the finals of the famous young horse classes including the Young Irelander (3YO's), National Discovery (4YO's) and Boomerang (6/7YO's). ClipMyHorse.tv first provided coverage of Millstreet in 2015, when over 90,000 unique viewers from 71 countries tuned in to watch the action unfold.