FEI European Jumping Championship (YR/J/Ch) Roundup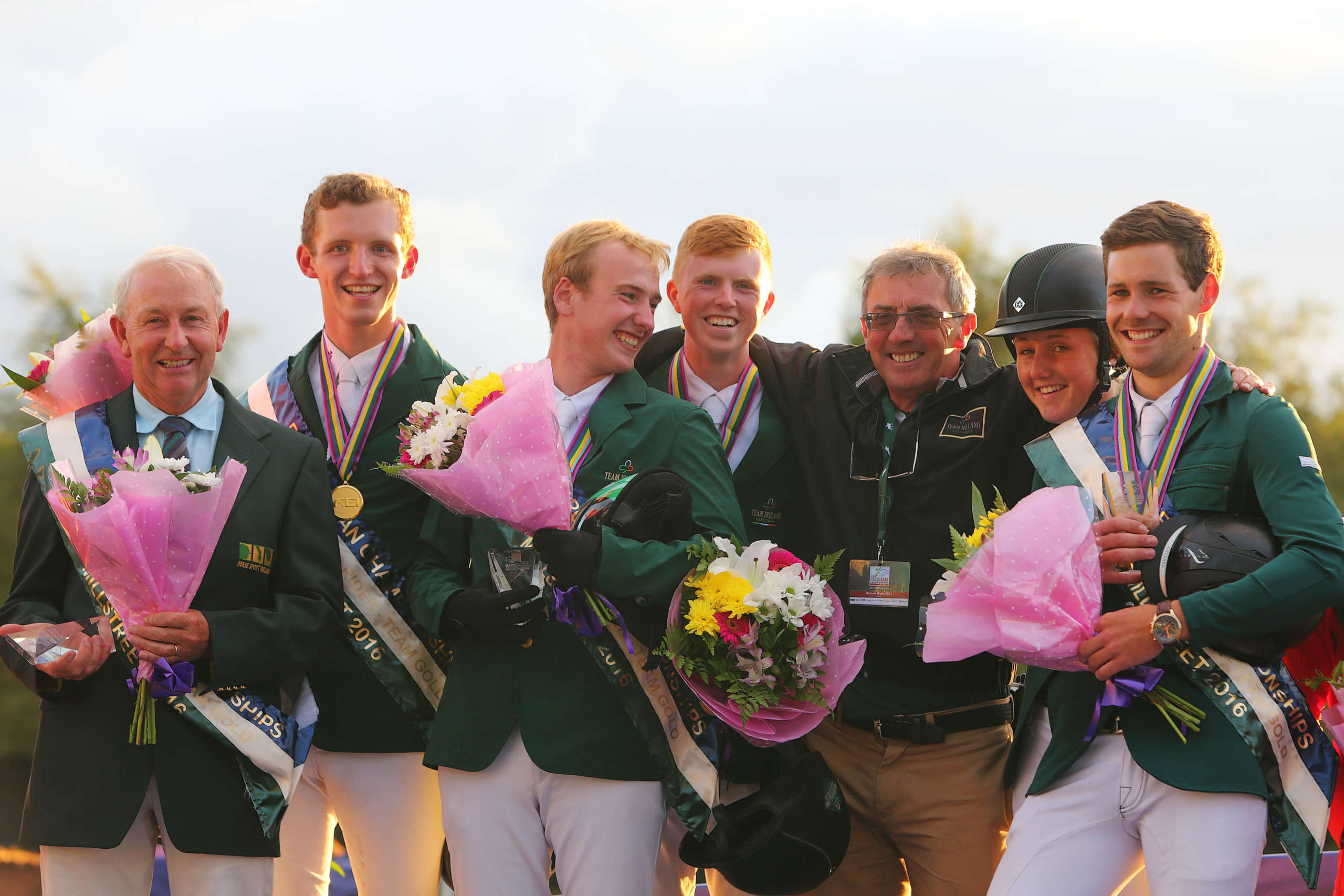 August 3, 2016
Belgium claimed the Junior Team and Children's Individual titles, Germany clinched Young Riders and Children's Individual gold, Spain clinched the Children's Team title and the host nation of Ireland were crowned Young Riders Team champions at the FEI European Jumping Championships for Children, Juniors and Young Riders 2016 at Millstreet (IRL).
The Green Glens arena in Millstreet is close to the hearts of many of today's great stars. It was here that current World and European Jumping Champion, The Netherlands' Jeroen Dubbeldam, claimed his first significant title when crowned Young Riders champion back in 1994.
Riding a horse, aptly named Killarney which is a town close to the County Cork venue, he headed a line-up that included Christian Ahlmann and Marcus Ehning who were also on the gold-medal-winning German team, while Malin Baryard helped clinch team silver for Sweden. Just six years later, Jeroen was crowned individual Olympic champion in Sydney (AUS) at the age of 27, and all four of these riders along with many more are on their way to the Rio 2016 Olympic Games over the next few weeks. Championships like this are an important stepping-stone along the way.
Children
The Spanish enjoyed a clear-cut victory in the Children's Team event. A total of 17 nations fielded teams, and when Theo Chiulia Leduc (Petit Chateau), Iraia Elordui Alvarez (Filia Yar) and Pilar Mateos de Urbina (Casion) were fault-free over the two rounds of the nations cup, then Jacobo Ussia de Garay's (Queen Blanchelande) single time penalty in the opening individual competition was all they had to count.
However it came down to a two-way jump-off for silver and bronze between Germany and Italy when they were tied on four faults. Germany's Piet Menke (Cesha OLD), Pia Stieborsky (Collins 19), Viktoria Schmidt (Sir Douglas 10) and Joan Wecke (Corina 110) all went clear this time out in the collective time of 111.19 seconds. And when Italy's Matteo Orlandi (Cantiano), Beatrice Bacchetta (Fanthasia), Milla Lou Jany Polizzi (Cara Mai) and Lorenzo Correddu (Touche D Arrogance) were more than eight seconds slower then they had to settle for the third step of the podium.
Spanish Chef d'Equipe, Marco Fuste, said, "my team prepared for this and it is a great feeling. We don't win many medals so this is just fantastic! We started the year with 10 riders who were all good and finished up with the five that are here. They all worked very hard for this, and also their trainers and especially the parents,who give up a lot in the preparation for a competition like this. And one day it comes together and we have good luck like today!"
Team-member Theo Chulia Leduc admitted, "I did feel some pressure, but managed three clear rounds which makes me feel great!" and Iraia Elordui Alvarez pointed out, "I been riding since I am 10 and was in the team for the first time – we will celebrate this gold medal when I get back home to Bilbao!"
Pilar Mateos de Urbin said, "I didn't expect that we would win gold! I did feel some pressure after my first clear round, but like Theo and Iraia I managed both other ones also clear, even though I was a bit nervous!"
In the Individual Children's Championship it came down to a five-way decider between Germany's Schmidt, Menke and Remming Ripke (Giiunco della Loggia) and Chulia Leduc from Spain along with Italy's Milla Lou Jany Polizzi. In another thrilling jump-off Chulia Leduc was the only one to leave a fence on the floor and Menke finished just outside a podium placing when time was the deciding factor. Schmidt and Sir Douglas reigned supreme when breaking the beam in 31.89 seconds.
Italy's Polizzi (Qara Mai) took the silver in 33.05 and Germany's Remming Ripke claimed the bronze in 33.74 seconds.
Gold medallist Schmidt (14) said "I'm so surprised! I'm trained by my parents who both also ride up to 140cm. I'm competing since I am six years old and Sir Douglas is a horse bought by my parents when he was three years old."
Silver medallist, Polizzi, was feeling both happy and sad. "I was riding a horse belonging to my friend and have to give him back to her when we go home – regretfully. I didn't have any mistakes with Cara Mia during all the classes and now I'm going home with a bronze medal with the team and this silver individual. My father, who was a well-known rider, is my trainer – but I don't know if I'm already better than him!" she joked.
Bronze medallist, Flemming Ripke (14) said, "it's unbelievable. I didn't think I would go home with a medal so of course I am more than happy! I was riding ponies until I was nine, but then was too big for them, so my father – who is also a trainer like my mother – gave me a horse. In two weeks I will be competing in the German Championship for Children and I will give everything again!" he added.
Juniors
There was another thrilling battle for the Junior Team medals which came down to a three-way jump-off between Belgium, Italy and Great Britain. All three sides finished the first two rounds on an eight-fault scoreline, and the Belgians and Italians added eight more in the race against the clock.
Belgium's Zoe Conter never touched a pole with Zeta di Sabuci but her sister, Emilie, was eliminated in the jump-off with Fragile van T Paradijs which piled the pressure on her team-mates. Simon Morssinkhof (Gines van de Klunderd) and Gilles Thomas (Indiana VH Kapelhof) each collected just four faults this time out, and with the three scores counted the Belgian time of 101.71 seconds clinched it.
Giacomo Casadei (My Forever), Tommaso Gerardi (Venusz), Francesco Correddu (Necofix) and Guido Franchi (Windrose) posted their eight faults in 105.85 for the silver. But three of the British side – Leonie Aitkenhead (Clane K), Emily Ward (Remi Cavalleri) and Harry Charles (Controe) – picked up eight faults, and two of those had to be counted when Harry's sister, Scarlett Charles, produced a clear with Sacree du Rouet.
Belgian Chef d'Equipe, Deraedtt Rik, was delighted with his team. "It was an exciting jump-off and we handled it really well. Even though we had four faults in the first round, we handled it like we always do – we are Belgians, and we always go for it!"
Team member Gilles Thomas said "we really have a lot of good riders in Belgium. The Young Rider classes I have ridden in are high, but the Junior classes are tougher!" Simon Morssinkhof commented, "it was a super day and I don't care at all that I'm not qualified for the Individuals. I came here to win a medal and got gold with the team – I'm happy!"
And the Belgians had plenty more to be pleased about when taking Junior Individual gold and bronze. Thomas steered Indiana VH Kapelhof through five flawless rounds of jumping to top the leaderboard, pipping French rider Camille Conde Ferreira (Pirole de la Chatre) by just the single point she collected when finishing sixth in the first qualifying competition. Belgium's Zoe Conter claimed the bronze, her seventh-place finish in the same competition putting just 1.27 points on the scoreboard and she would add no more.
"It's a great feeling to go home winning two gold medals, especially since my horse is only eight years old!" said the talented Thomas. "I've been riding her for 10 months now and we already won the Belgium Championship. She is a fighter and hardly ever makes mistakes" he said. Another fighter is Zoe Conter who was nursing a possible fracture in one hand after landing awkwardly on her horse's neck in the first round of the Individual final. That was all forgotten in the excitement of the prizegiving however. "It couldn't have been better. I was fourth after the first round and just did my best, and my horse jumped great!" she said.
Young Riders
The Irish made it to the stop step of the podium in the Young Riders Championship when Michael G Duffy (Felix), Matt Garrigan (Contino), Max O'Reilly-Hyland (Ahmed du Calvaire) and Gavin Harley (Understone van de Kapel) completed on a five-fault scoreline. A total of 10 nations competed, and the Dutch took silver ahead of Switzerland in bronze medal position.
The hosts made a great start with three clear rounds over Gerard Lachat's first-round course, Harley's seven-fault effort the discard this time out, but they were sharing the lead with Belgium's Chloe Vranken (Tahisdu Masure), Lynn D'Have (Caellum Terwilgen), Leonie Peeters (Catho) and Boy-Adrian Van Gelderen (Be Cool) at the halfway stage. However the Belgians disappeared from the reckoning with 26 faults second time out and when the Dutch side of Senne Thijssen (Con Quidam RB) Jens Van Grunsven (Oka), Lisa Nooren (VDL Groep Sabech D'Ha) and Kevin Jochems (Flugel van T Palmenhof) added just two time faults to their first-round tally of eight, then that was plenty good enough for silver spot.
It was Harley who saved the Irish day with his anchor clear round when Duffy, team bronze medallist a year ago, picked up just a single time fault, Garrigan collected four and then O'Reilly-Hyland collected eight at his second attempt.
Meanwhile the Swiss side of Bryan Balsiger (Nohjy), Vladya Revedin (Edison), Pauline Zoller (Barbarella) and Rona Meier (F Olympic MH) improved dramatically from their first-round 12-fault effort to add just one time fault for a total of 13 to take the bronze.
Irish Chef d'Equipe and former Irish Army star Comdt John Ledingham admitted the win was "really emotional." Michael Duffy said "today is the best day! To win at home is just great!" Matt Garrigan said, "I've been successful in pony classes, but this tops that! I knew we had a strong team but my horse has never jumped that high up to now, and it doesn't take much to make a mistake. But with all the support we get it makes it much easier." Gavin Harley was under huge pressure to secure that Irish gold. "I just tried not think too much and just ride well" he said, referring to his critical second-round effort. "My goal was just to go clear, and I did it!"
There were 19 into the Individual Final and it was 20-year-old German, Guido Klatte ,who claimed the title when finishing on the 0.12 points he picked up in the first qualifier. The Netherlands' Lisa Nooren secured her second silver medal of the week when her eight-fault first-round effort in the Team competition was added to just 0.38 points from the first qualifier for a total of 8.38. And Vladja Reverdin claimed her second bronze medal of the week when finishing with 9.32 points on the final leaderboard.
Gold medallist Klatte, who was clear in all five rounds, said, "I can't believe it and I'm just happy! They all were tough courses, but I was so lucky. I think I have earned the two weeks break now, and then I will compete at the German Championship" said the young man whose father owns a horse transportation company. "I made an apprenticeship there, and think I will probably take over the business" said Klatte who took Young Rider individual bronze and team silver with the same horse, Qinghai, 12 months ago.
Bronze medallist Vladya Reverdin was also really pleased. "The trip over here was well worth it!" she said. "I train in Belgium with our Swiss elite rider Janika Sprunger, where my two horses are, and this training surely had an influence on my result" she added.
Results
FEI European Jumping Championships for Children, Juniors and Young Riders 2016:
Young Rider Team Championship: GOLD – Ireland 5 faults: Felix (Michael D Duffy) 0/1, Contino (Matt Garrigan) 0/4, Ahmed du Calvare (Max O'Reilly-Hyland) 0/8, Understone Van de Kapel (Gavin Harley) 7/0; SILVER – Netherlands 10 faults: Con Quidam RB (Senne Thijssen) 0/1, Cika (Jens van Grunsven) 0/8, vdl Groep Sabech D'Ha (Lisa Nooren) 8/0, Flugel van 'T Palmenhof (Kevin Jochems) 20/1; BRONZE – Nohjy (Bryan Salsiger) 4/0, Edison (Vladya Reverdin) 4/1, Barbarella (Pauline Zoller) 12/0, F Olympic MH (Fiona Meier) 4/8.
Young Rider Individual Championship: GOLD – Qinchai (Guido Klatte) GER 0.12; SILVER – VDL Groep Sabech D'Ha (Lisa Nooren) NED 8.38; BRONZE -Edison (Vladya Reverdin) SUI 9.32.
Junior Team Championship: GOLD – Belgium 8/8 101.71: Zeta Di Sabuci (Zoe Conter) 0/0/0/32.36, Gines van De Klunderd (Simon Morssinkhof) 10/4/4/35.10, Fragile van 'T Paradijs (Emilie Conte) 4/8/Elim, Indiana VH Kapelhof (Gilles Thomas) 0/0/4/34.25; SILVER –
Italy 8/8/105.85: My Forever (Giacomo Casadei) 0/4/4/38.85, Venusz (Tommaso Gerardi) 12/12/4/31.11, Necofix (Franncesco Correddu) 0/0/0/35.89, Windrose (Guido Franchi) 0/4/8/37.42; BRONZE – Great Britain 4/16/103.15: Clane K (Leonie Aitkenhead) 0/0/8/34.57, Sacree du Rouet (Scarlett Charles) 8/4/0/35.45, Remi Cavalleri (Emily Ward) 4/8/8/34.42, Controe (Harry Charles) 0/0/8/33.28.
Junior Individual Championship: GOLD – Indiana VH Kapelhof (Gilles Thomas) BEL 0; SILVER – Pirole de la Chatre (Camilla Conde Ferreira) FRA 1; BRONZE – Zeta Di Sabuci (Zoe Conter) BEL 1.27.
Children's Team Championship: GOLD – Spain 0 faults: Petit Chateau (Theo Chulia Leduc) 0/0/0, Filia Yar (Iraia Elordui Alvarez) 0/0/0, Casion (Pilar Mateos de Urbina) 0/0/0, Queen Blanchelande (Jacobo Ussia de Garay) 1/4/4; SILVER – Germany 4/0 111.19: Cesha OLD (Piet Menke) 0/0/0/0/39.59, Collina 19 (Pia Stieborsky) 0/4/0/0/38.62, Sir Douglas 10 (Viktoria Schmidt) 0/0/0/0/37.88, Corna 110 (Joan Wecke) 0/8/4/0/34.69: BRONZE – Italy 4/0/119.31: Cantiano (Matteo Orlandi) 0/6/4/0/42.17, Fanthasia (Beatrice Bacchetta) 0/0/0/0/35.47, Qara Mai (Milla Lou Jany Polizzi) 0/0/0/0/41.67, Touche D Arrogance (Lorenzo Correddu) 0/4/0/4/35.75.
Children's Individual Championship: GOLD – Sir Douglas 10 (Viktoria Schmidt) GER 0/31.89: SILVER – Qara Mai (Milla Lou Jany Polizzi) ITA 0/33.05: BRONZE – Giunco della loggi (Remming Ripke) GER 33.74.
Full results here
Louise Parkes (FEI)